SITE MOVING THIS MONTH Click here for details
GOD BLESS AMERICA! Welcome to The Aqua Zone- the site for all your super soaker needs. The Aqua Zone provides a tactical database, A links page, a Technology page on cool gadgets you can use The Aqua Zone also provides over 20 detailed super soaker reviews! New features include an Interactive page containing a guest book, poll, and a Tell-A-Friend. So be sure to bookmark and come back soon. Updates come frequently.


You are visitor number since July 31st, 2000. This site is best viewed at a resolution of 800x600 or higher, using Microsoft Internet Explorer 4 or higher, any Netscape 4.7 users or lower may encounter trouble with The Aqua Zone. Email Me at Budgiesoaker@yahoo.com for any questions or comments. IF YOU CAME HERE FROM SEARCH ENGINE CLICK HERE






News and Updates






October 30th,2001:Wow Im actually updating alot now. Now for the news, I am still debating on the new site im quite troubled by the fact that alot of the time the new server doesn't load the pages thus making it very agrivating for all of us. Ive been toying with the idea of Geocities but ive allready done so much work moving would be a real pain in the butt. Im waiting for Brinkster to E-Mail me back regarding this. Ive just about completed all the reviews and I think you will all be impressed. I'm also toying with the idea of launching the site half completed, meaning about half the site will be in the new format and the other half link back to the current site on Tripod. I really need you the viewers help. It's not often I request everyone to E-Mail me but if you get a chance do me a big favor and give me some info on what I should do.
Lost and confused your friend running this site :)
SideNote: Im reading "To Kill a Mocking Bird" it's the best book I ever read and I cant put it down if you ever get a chance read the book if you haven't.

October 25th,2001:AquaZone now officially announces it is a founding site of HydroSphere A joint project by SuperSoaker Atlantica, and AQUAFIRE. We provide many great features come check us out and join the Yahoo Club Forum join the forum here!. Thats all for now ill start work up again on 2.9 of AZ I was occupied working on the HS main site.

Also check Aqua Zone Info Station for updates
Need old news? See the News Archive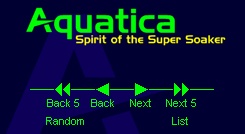 Get Internet Explorer 5.5 recomended to view The Aqua Zone
This webpage, The Aqua Zone is &copy 2000-2001 Frank S. All . Super Soaker is a trade mark of Larami Limated all rights reserved. Any other trademarks are property of there respected owners.